Twin 18" poultry show cage pens with sliding doors three solid divisions, rings or ties to assemble

These 18" twin cages are cheaper to buy than our 18" triple units and when flat packed cost much less to deliver, ideal if you only want one or two for your penning shed.
We can send these 18" twin pens to almost any country please email with your requirements and your address for a quotation. Remember also that when we send outside the EU no vat is charged on the price, saving a further 20%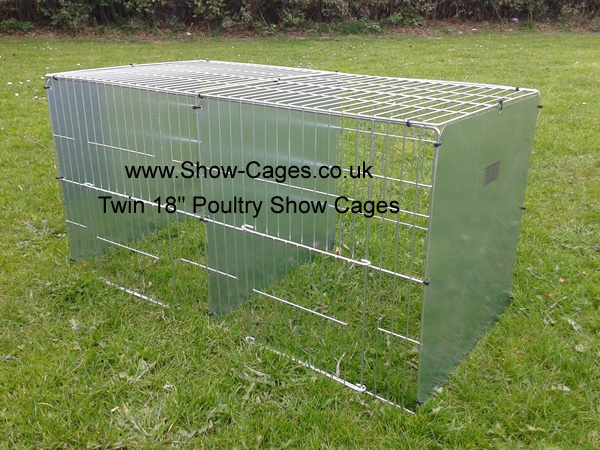 You are buying one Twin 18" Poultry Show Cage which comes flat packed, one front panel with two sliding doors, two panels which are the top & back, three solid divisions and enough ties to assemble the cage, if in doubt please telephone 01772811522 before purchasing.
Delivery is ONLY England, Wales, other areas such as Scotland, Northern Ireland, Highlands, Islands or Euorpe please contact us for a quote. Delivery is ONLY England, Wales, other areas such as Scotland Northern Ireland, Highlands, Islands or Euorpe please contact us for a quote
These 18" twin cages are cheaper to buy AND send than our 18" triple
These are inexpensive to buy poultry show cages & cheap delivery, ideal for you if just starting showing poultry, best poultry show cage used in conjunction with our show cage plinths as used in penning sheds for pre show penning